Ideas for Business Growth with Mobile Applications in 2022
1 year ago
Are you running a restaurant, healthcare or any other business and want to become a remarkable entrepreneur in 2022? Then you must get your own business mobile application built from a leading Mobile Application Development Company in India i.e. Magna Opus Software Services Pvt Ltd. Recent research statistics shows that business app downloads have increased to 132% leaving behind gaming apps. Therefore, on this statistic basis, here are some of the best business growth ideas you can incorporate using mobile applications in 2022:
Are you a tutor or running an educational institute and want to increase student enrollment towards your subject/course in the coming years? E-Learning mobile application is the best idea you can integrate into your educational business. In this technological and digital world, people are opting for remote learning and getting an E-learning app for your institute can be a good venture for the coming years.
Medicine delivery or E-Prescription apps are gaining admiration in the market because of the convenience they provide. These mobile apps are developed by Mobile Application Development Company in India and all over the world to make sure that appropriate medicines are administered among their patients. In addition, E-Prescription mobile apps allow doctors to link E-prescription directly to patients' Smartphones digitally. Developing a mobile app for doctors is one of the most efficient business growth ideas that will boost the revenue of the healthcare industry in the coming years.
On-demand service finder apps have gone mainstream due to their potential to cater for the unique requirements of the users. Moreover, as the usage of gadgets is expanding, consumers expect to be able to access all the services they need simply by tapping the screen on the mobile device. Hence, service finder apps can be a great boon in the future for city service providers like florists, beauticians, advocates, etc.
Mobile application for HORECA (HOtel, REstaurant, Café):
Customers dislike waiting at a hotel or café for an extended period of time and just want speedy and high-quality food-serving services. So, if you are a part of the catering business, then you must be aware that it is highly necessary to provide the best quality of food without delaying the order they have placed. Hence, to increase your restaurant sales, you can get a mobile application developed for your HORECA business that will allow your customers to reserve tables and order food online.
An average smartphone user spends more than 50% of his/her time exploring mobile applications. Hence, it is clear that the future of businesses is highly dependent on the development of user-friendly mobile apps. By analyzing the industry patterns, it has been identified that the above-mentioned are some of the best ideas for business growth entrepreneurs can opt for with mobile apps in 2022. Hurry Up! Contact the leading Mobile Application Development Company in India for the best app development services and for turning your app ideas turn into reality.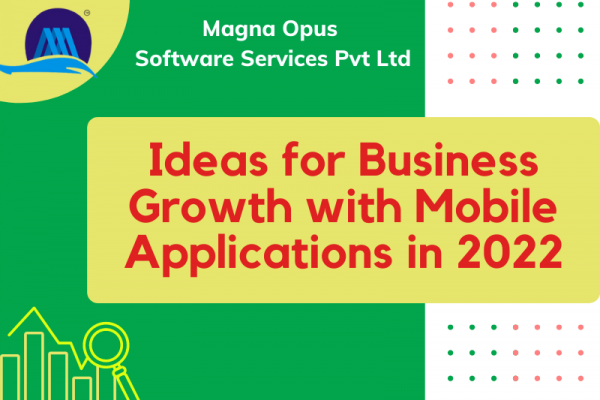 ---
---
No comments yet! Why don't you be the first?