Why Do You Need Content Marketing Services Company?
1 year ago
Got fed-up of trying various brand development strategies to build your brand, but have you ever tried implementing Content Marketing Services? If not then it's high time you should approach the best Content Marketing Services Company in Jalandhar as content marketing services help businesses to manage and curate good content. If you want to deliver consistent and accurate Consumer-Centric content across all distribution centres then you can opt for any of the Content Marketing Services listed below:
Having good content for your website is not enough; you should be able to incorporate content on your website that has the potential to generate leads and has the probability to respond to SEO processes. Magna Opus Software Services Pvt Ltd is one such Content Marketing Services Company in Jalandhar which provides relevant, original and clean content to help business websites to stay relevant and acquire more readability.
One of the main cornerstones of Content Marketing is Blogging as it helps in building brand awareness and increasing customer engagements. Well-written blog posts tend to go viral and get shared across social channels easily. According to research statistics, Marketers who prioritized blogging over other content marketing services acquired 13 times more ROI (Return on Investment) and more than 50% of the online consumers get positive ROI from their inbound marketing activities.
Social Media Posts are one the most commonly used Content Marketing service that is often used by marketers to engage people or increase followers. Pinterest, Facebook, Instagram, Twitter and LinkedIn are the most popular social media channels used to share information about the company. It has been analyzed that more than 30% of Millennial found that social media is one of the most effective channels for communicating with businesses. So if you want better customer satisfaction towards your business and want to increase business sales, you must opt for Social Media posts in your content marketing strategy.
Visual Content is a fantastic way to grab the attention of customers. The audience gets drawn easily by the visual content and hence Infographics are a great form of content marketing service for explaining a process, product or business. You can get in touch with the best Content Marketing Services Company in Jalandhar to get Infographics for your business that will be 3 times more likely to be shared on social media. With proper use of text, images, and other eye-catching elements of Infographics you can engage a wide number of customers.
Not sure what type of content your customers will find valuable? Blogging, Infographics or Social Media Posts? While options out there are exhaustive, hence, it is best to use a combination of the content marketing services mentioned above as the combined use of such services will serve your audience in the most effective way. You can also contact one of the best results-oriented Content Marketing Services Company in Jalandhar, i.e. Magna Opus Software Services Pvt Ltd as their professional Content Marketing Experts can suggest you the best combination of content marketing strategies for increasing brand recognition and increasing business sales.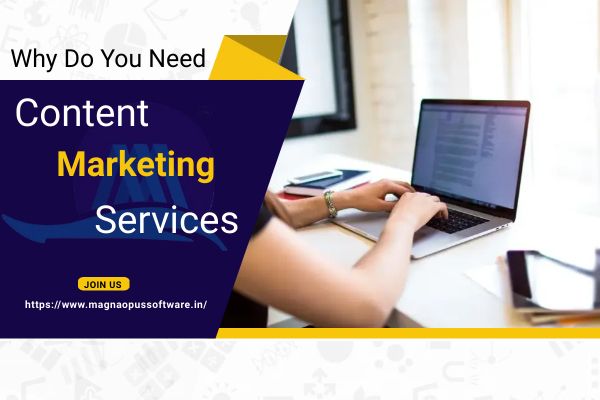 ---
---

Ayesha Bhansal
Great content. Keep it up.
2022-07-13 06:16:00
1 year ago