Important considerations for selecting mobile application platform
2 years ago
Day by day, the number of mobile app users is surpassing the number of desktop users, due to which the market of mobile application has become the world's leading business platform for promotions. Before getting mobile applications developed for your business from the best Mobile Application Development Company in India or other countries, you need to select the appropriate platform that you want to provide your customers worldwide. However, following are some considerations you need to ensure while selecting mobile application platform:
Think about your customers: User experience is the first thing that matters the most and no businessman want its users to delete their business app after downloading it due to inefficient user interface and rate as poor afterwards. Therefore, while selecting a mobile application platform in order to provide your business services to users worldwide, then you need to focus more on the UX or mobile application design.
Use supported devices: The main challenge faced by the users while using the mobile application platform is that in certain cases it does not support maximum devices. Therefore, this challenge needs to be eradicated by analyzing the target audience and identifying their most preferred devices. Windows, as well as iOS users, support only 20 to 100 devices respectively, therefore, you need to look at the features of different mobile platforms and select preferred device effectively.
Consider Development Costs: Every productive application requires investment and it increases with the application development process in several cases. Moreover, the development cost varies while using different mobile application platforms. Therefore, if you want to acquire an affordable option then you must use an Android mobile application platform as compared to iOS.
Defining security levels: Since mobile apps collect and stores user sensitive information such as email, contact details, credit card details, address, etc, therefore it is necessary to ensure that security is maintained at different levels of the selected mobile app platform for restricting the access to such data by malicious users. There is a need to define the security at user levels as well as application levels for ensuring that no security breach could occur at the selected mobile application platform.
The above-mentioned are some of the most important considerations you need to take into account while selecting a mobile application platform. Moreover, to go with any of the select mobile application platforms, you are required to hire a mobile app developer or a mobile application development company such as Magna Opus Software Services Private Limited. It is the best mobile application development company in India that creates cross-platform as well as native mobile apps according to business requirements.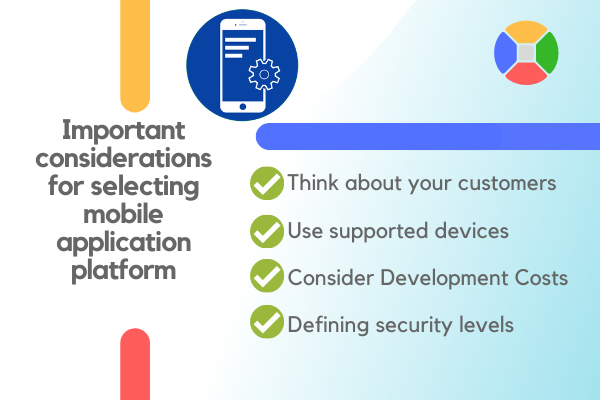 ---
---
No comments yet! Why don't you be the first?