Career Opportunities for IT Students
1 year ago
Are you a graduate student or have completed your education in the field of computer science and struggling to find a job that fits your interest and qualification? No need to worry about it as there are numerous career opportunities for IT students that will help you to climb up the corporate ladder easily. In the current scenario, it is observed that most of the students opt for job roles that are different from what they have acquired from their university or college. This might be due to a dearth of awareness regarding distinct roles and responsibilities that can be undertaken by a technically skilled person. Career planning is an extremely fundamental but overwhelming task and one should leave no stone unturned while making decisions related to the profession. Let's wade through the remunerative jobs for which IT graduates can go for:
Software Developer: A job of a mobile application developer suits you perfectly if you have a whale of a time while writing code or solving logical problems. Software development can open paths into various other industries as well including video games and finance. Assimilating coding languages is one of the foremost steps to enter into this field, so start learning new languages like Javascript, Kotlin, Python and many more.
Web Developer: If you are more creative and always critique poorly developed websites, then you should consider working as a web developer after completing your computer science degree. You'll get an opportunity to work with graphic designers for enhancing the visuals and overall user experience of the websites. Your main responsibility will include ensuring the compatibility of new features across various device types and browsers.
Graphic Designer: Apart from software development and website development, graphic designing is another career option for IT graduates. Graphic designers are enterprising and artistic and if you think you can thrive at persuading and influencing others through attractive visuals then you are impeccable for this job. You will be responsible for designing creative online campaigns, printing ads, and websites and developing logos or illustrations.
Software Quality Assurance (QA) Tester: To pursue your profession as a Quality Assurance Tester you require at least a bachelor's degree in computer science, engineering or software design. Important skills that need to be acquired by software QA included problem-solving, multitasking, time management and attention to detail and verbal and written communication. These engineers undertake multiple software tests for identifying and shooting down bugs.
Content Writer: According to industry specialists the scope of content writing is growing phenomenally and has increased by 30% since previous years. If programming does not fascinate you then this profession can be considered a good option for you. Content writers are responsible for creating content in the form of corporate blogs, press releases, social media content, product descriptions, white papers, e-books and many more.
To conclude, IT employees are in demand and the above-mentioned are some of the employment areas that are available for computer science graduates and they can pursue their careers at these designations.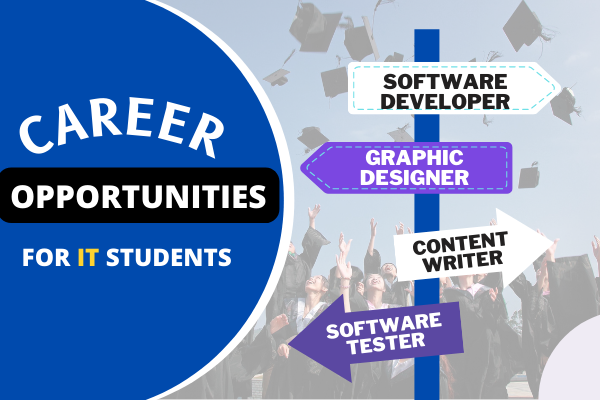 ---
---

Andrew Elivs
Really! Helpful information
2022-06-09 09:03:06
1 year ago