Criteria to select Mobile Application Development Company in Jalandhar
1 year ago
Planning to get developed a unique and creative business mobile app from the best Mobile Application Development Company in Jalandhar in order to increase your customer engagement? However, you are not aware of the factors you need to consider while selecting a mobile application Development Company to get your own business mobile app? Don't' worry; the criteria discussed below will help you find the best Mobile Application Development Company in India that will handle your mobile application development project successfully which in turn will help you to stay ahead of your competitors:
Examine app development work portfolio: In order to select a mobile application development company for getting your business app developed, you need to visit the websites of leading mobile app development companies such as Magna Opus Software Services Private Limited in Jalandhar, explore their website and their work portfolio. By doing this, you'll get an idea about the kind of mobile apps the company has developed previously. Examine their developed strengths and capabilities and find out if any relevant work has been done similar to your app development requirements by the selected company. If the selected company has a good app development portfolio, then you should get in touch with them online.
Observe work ethics and values: Work ethics and values play a significant role in an organization, and hence before getting your mobile app developed from the selected company, you must go through their work ethics and values. This will help you to understand the measures and opinions undertaken for ensuring client satisfaction. While observing the work ethics and values of the mobile application development company, you need to analyze their potential to take responsive decisions, achieve strategic goals and optimal utilization of resources as well.
Ensure Proper App Maintenance and Support: To get your business app developed to engage more customers, then you should look for a mobile application development company in Jalandhar that is not only interested in your app development but in your business too. The mobile application development company's interested in your business can guide you on how to increase your target audience online. Hence, make sure that the company you have selected for getting your business app developed provides proper maintenance and support. There is a possibility that you might come across an issue after your app is developed successfully and handed over to you and you want that issue to get resolved urgently. So make sure to select a company that is ready for a long term agreement with your business in order to provide maintenance and support services of the mobile app.
Now that you have all the required information in your hand, i.e. the above-mentioned criteria, so select the leading mobile application development company in Jalandhar that you believe will be the best fit for your business and will help you develop strong business relationships.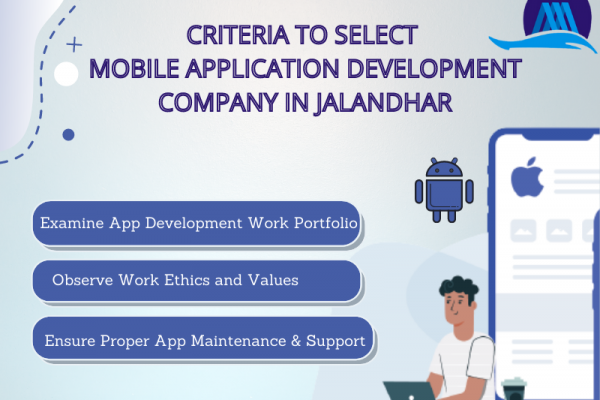 ---
---

Sneha
Nice
2021-10-20 06:28:22
1 year ago

Harris
Amazing write up!
2021-10-27 05:03:20
1 year ago