Leading Food Delivery App Development Company India
Leading Food Delivery App Development Company India
1 week ago
Are you looking to develop a food delivery mobile app to serve your customers with convenient online food ordering and delivery experience? Magna Opus Software Solutions is the best Food Delivery App Development Company in India that delivers complete restaurant app development services providing benefits to travelers, city dwellers, and citizens as well who prefer to eat cooked food.
Food delivery industry is growing rapidly around the world and according the recent study of Statista, number of people who order food via online mobile apps has nearly doubled in the last 3 years. Food delivery mobile applications in India developed by Magna Opus Software Solutions effortlessly associates foodies to nearby restaurants that are known for serving best quality food. So, escalate your food ordering and delivery business to new heights by integrating following features in your food delivery mobile application:
Order from nearby restaurants: Get this feature in your food ordering and delivery mobile app that will assist customers to search for and view all the nearby restaurants in their locality. Moreover, let customers explore the restaurant menu or food items through food ordering app using which users can order food online after going through their price details and description.
Order Tracking and Push Notifications: Another major feature that needs ensured by food ordering app Development Company in Food ordering app is order tracking. This feature let customers to track their food orders using real-time tracking feature. In addition to this, push notifications should also be introduced in the food ordering app to let customers get notifications of order confirmations, order cancellations, and order delivery.
Easy to register restaurant: Food Ordering App Development Companies in India needs to ensure that it integrates feature that allow restaurant owners to register and create profile describing their restaurant and menu. Food ordering and delivery app should allow restaurant owners to provide contact details, address, business email, and service hours.
Manage Orders and Wallet Details: Apart from these features, food ordering and delivery app should allow food merchants/restaurant owners to manage orders in one place including details about pending orders, dispatched orders, accepted orders, and rejected orders. In addition, food ordering app should allow food merchants to view wallet details to know total amount earned from each food order.
Easy to upload products/food items: Restaurant owners should be allowed to upload their food items by mentioning its price, image, food category, discount (if any) and its description. Merchant/Restaurant owner should be given privilege to edit or delete the food item as well whenever required.
So what are you waiting for? It's a perfect time to become a leading player among food restaurants and customers by considering food delivery app development. Escalate your restaurant business and serve more customers online by getting mobile app developed for your restaurant from the best Food Delivery App Development Company in India i.e. Magna Opus Software Solutions. Get all such features as discussed above in your food ordering and delivery mobile application.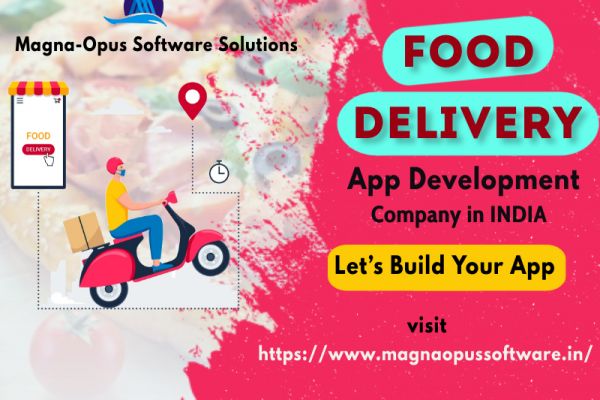 No comments yet! Why don't you be the first?